This section of the blog is devoted to bringing forward signs that point to the end of the age and the 2nd coming of the Lord Jesus Christ. Jesus gave us signs to watch for so that we would not be spiritually asleep at the time of His 2nd Coming. Like birth pangs, the signs have been increasing in frequency and severity over the past ten to twenty years.
Famine
Severe weather is not specifically mentioned in the Bible as a Sign of the End-Times, but what is mentioned is famine, pestilence, and the "seas roaring". What can cause famine? The main causes of famine are environmental and political factors. Extreme weather, heat, cold, drought, flooding, shortened growing seasons, all contribute to famine. Over the past ten years, famine has been extreme in Somalia, Yemen, Sudan, Nigeria, North Korea, India, Venezuela, Kenya, Madagascar.
June 14, 2019…
India Heat Wave, Soaring Up to 123 Degrees, Has Killed at Least 36
NEW DELHI — One of India's longest and most intense heat waves in decades, with temperatures reaching 123 degrees, has claimed at least 36 lives since it began in May, and the government has warned that the suffering might continue as the arrival of monsoon rains has been delayed.

India's heat waves have grown particularly intense in the past decade, as climate change has intensified around the world, killing thousands of people and affecting an increasing number of states. This year, the extreme temperatures have struck large parts of northern and central India, with Rajasthan, Madhya Pradesh, Uttar Pradesh and Maharashtra among the worst-hit states.

Anup Kumar Srivastava, an expert at India's National Disaster Management Authority, said the number of Indian states hit by heat waves had grown to 19 in 2018 from nine in 2015, and was expected to reach 23 this year.

"This year, the number of heat wave days have also increased — and it's not just day temperature, night temperatures have also been high," he said.

https://www.nytimes.com/2019/06/13/world/asia/india-heat-wave-deaths.html
The following videos are just a small sample of the severe famine that is already going on in much of the world. Those who live in Western Nations may not realize how bad this truly is because our mainstream media does not focus on real news. Christian Charities are doing what they can. The United Nations and other organizations sends food aid, but the problem is far too severe. People blame the famine on "Climate Change" on WAR, Political instability, corrupt governments, on sanctions; however, Jesus tells us that FAMINE is a sign we are living in the Last Days. When we watch these short videos, again, a small sample of what is really going on, we realize that his problem is so HUGE, it's going to take JESUS HIMSELF to bring healing to the world.
Although Africa is frequently presented as the center of world hunger, Asia has always had more hungry people and more malnourished children, because Asia has so many more people.
64% of all malnourished children in the world live in Asia (FAO, 2017).
519.6 million adults and children in Asia consume too few calories, which accounts for about

12% of the total population of Asia

(FAO, 2017).
More than half of all stunted children under 5 lived in Asia in 2017 (UNICEF/WHO/World Bank Group, 2018).
In 2017, Asia accounted for more than two thirds of all wasted children under 5 (UNICEF/WHO/World Bank Group, 2018).
Southern Asia had the highest Global Hunger Index (GHI) score of 30.9,

indicating serious levels of hunger

(Global Hunger Index, 2017).
Southern Asia has the highest rate (14.7%) of undernourishment and the most numbers of the hungry in Asia. This region includes

Afghanistan, Bangladesh, and India

, among others (UNICEF/WHO/World Bank Group, 2018).
France prepares to swelter in record high June temperatures: June 24, 2019
PARIS (Reuters) – Authorities in Paris are setting up "cool rooms" in municipal buildings, opening pools for late-night swimming and installing extra drinking fountains as France braces for a "potentially dangerous" heatwave that could see record temperatures for June.

Shoppers in the French capital rushed to buy ventilator fans as the mercury headed towards 34 degrees Celsius (93 Fahrenheit) on Monday and was expected to climb higher later in the week. Night-time temperatures are unlikely to bring much respite.

The heatwave, which is also expected to engulf Spain, Germany, Switzerland and Belgium, is reviving memories in France of August 2003, when searing temperatures overwhelmed hospitals and caused the deaths of some 15,000 people, mostly elderly.

Parts of eastern and southern France will see the highest temperatures this week, peaking on Thursday, Meteo France said. The current record temperature for June stands at 41.5 degrees, registered near Narbonne in southern France in June, 2003.

"We could see temperatures in localized areas hit record highs," Meteo France said. "This heatwave could be remarkable for how early it has come as well as its intensity."

The unseasonably early heatwave has been caused by a storm stalling over the Atlantic Ocean and high pressure over central and eastern Europe, causing hot air to be sucked up from the Sahara desert, weather site AccuWeather said.

"A potentially dangerous heat wave will grip a large swathe of western and northern Europe this week," meteorologists wrote on AccuWeather.

Relatively high humidity levels mean it will feel more like 47 degrees, they said.
"WE'RE READY"
Paris Mayor Anne Hidalgo told the Journal du Dimanche that as many as eight swimming pools would remain open after 10pm during this heatwave, bathing would be permitted in La Villette canal basin and three temporary pools would be opened in densely populated neighborhoods of the capital.

Drinking water will be handed out to the homeless and schools in and around Paris have urged pupils to bring water and wear sun cream.

"We're ready. This heatwave will be intense," Hidalgo told the weekly newspaper.

Farmers in France, the European Union's largest grain growing nation, are worried about damage to crops. Grains such as rapeseed and wheat are in their crucial pre-harvest period making them more fragile to heat stress.

The potential for crop damage during the scorching weather supported Euronext wheat futures on Monday. Water restrictions, including for irrigation, are already in place in one fifth of mainland France's 96 administrative departments.

Meanwhile, on the power market, spot electricity prices for day-ahead rose on expectations of a rise in demand during the heatwave.
Dramatic conditions that could lead to a US and Western Nation Food Shortage or Famine
May 6, 2019
Record Setting Flooding In The Heartland: "The Mississippi River Has Been At Major Flood Stage For 41 Days And Counting"
Thousands of farmers in the Midwest have been waiting for a very long time for floodwaters to recede so that they can finally plant some crops, but instead more rain just keeps on coming. As you will see below, it is being reported that the Mississippi River has now been at major flood stage for 41 days in a row, and a lot more rain is coming this week. Meteorologists are warning us that major flooding may extend into June, and that means that many farmers will not be able to plant crops at all this year. Unfortunately, as global weather patterns continue to shift many believe that what we are witnessing this year may become the "new normal" along the Mississippi River.
The following comes from USA Today…
The Mississippi River crested at higher levels than it ever had in the past. That was at 22.7 feet in Davenport, Iowa, on Thursday, a record that hadn't been matched since records began to be kept in 1862, said Loveland. That is almost eight feet above flood stage.

In Rock Island, Illinois, the Mississippi set a record level of 22.7 feet, breaking the record set on July 9, 1993, during the Great Flood of 1993.
And according to NPR, the Mississippi has now been at major flood stage for 41 days in a row…
The Mississippi River has been at major flood stage for 41 days and counting, and this week a temporary wall failed, sending water rushing into several blocks of downtown Davenport, Iowa.

Millions of bushels of wheat, corn and soybeans have been destroyed by flood waters. Hundreds of millions of dollars worth of livestock have been lost, and all of us will soon be feeling a lot more pain at the grocery store.

Of all the natural disasters that we have seen in recent years, this is the biggest, and U.S. food production is going to be dramatically affected because many farmers will not be able to grow crops at all in 2019.

Many of America's farmers will bravely keep going after this disaster, but for many others a financial breaking point has arrived. Farm bankruptcies had already surged to the highest level since the last recession prior to all of this flooding, and now this crisis will end up driving many of them away from the profession for good.

In the end, it is going to be a while before we know the full extent of the damage to America's farms and our food supply, but all of the experts agree that it will be unprecedented.
June 14, 2019: Letter written from an anonymous person connected to the farming industry in the US. to an Alternative Media Organization.
"Hi Steve,
The situation with the farmers and agricultural businesses is worse than is
being reported. My dad is a farmer in Ohio who for the first time in his
life is not planting his crops and is taking no planting insurance. The
insurance will only be enough to maybe break even. The farmers who have
contracts to rent ground still owe the rent to the landowner even if they
aren't planting anything unless the landowner agrees to lower the rent for
the year. He said most of what has been planted hasn't been planted in
optimal ground conditions which will decrease yields and could have trouble
maturing and producing a decent crop."

"Another big concern is having enough grain to feed livestock. The local
grain elevators have cancelled the sale of their current supply and are
scrambling to get enough grain for their livestock feeds they make. Hay is
also going to be in low supply. Alot of the alfalfa was killed off over
the winter. They still haven't been able to get in the fields for the first
cutting of the grass hay, which means the second cut might not be good if
they can't get the first cutting done. Another local farmer that raises
cattle said that if they can't get enough to feed their herd they will have
to get rid of them. Other local cattle farmers are looking to plant
sorghum for a sileage type feed. That has to be planted by July 5 but the forecast is cool and wet here for the next 2 weeks. "

"I felt a very ominous feeling in my spirit when I was listening to all of
this. It was confirming what I've been hearing in my spirit the last week
Ezekiel 14:13 "..when the land sinneth against me and I break it's staff of
bread...". Our nation's breadbasket is definitely breaking… I'm telling
everyone I know who will listen to stock up some food.
Thank you for all you do, for waking me and others up to truth, for not
being ashamed of Jesus. God bless and protect you and your family! K.S."
Mass Animal Die-offs
Hosea 4: Listen to the word of the Lord, O sons of Israel,
For the Lord has a case against the inhabitants of the land,
Because there is no faithfulness or kindness
Or knowledge of God in the land.
2 There is swearing, deception, murder, stealing and adultery.
They employ violence, so that bloodshed follows bloodshed.
Therefore the land mourns,
And everyone who lives in it languishes
Along with the beasts of the field and the birds of the sky,
And also the fish of the sea disappear.
JUNE 12, 2019
Alaskans find more dead seals along warming Arctic Sea
ANCHORAGE, Alaska (Reuters) – At least 60 dead seals have been discovered along beaches of the Bering Sea and Chukchi Sea in northwestern Alaska, and scientists are trying to determine what caused their deaths, the National Oceanic and Atmospheric Administration (NOAA) said on Wednesday.
The dead seals – bearded, spotted and ringed seals – have been found at sites ranging from southern edge of the Bering Strait region to the Chukchi coastline above the Arctic Circle, NOAA's Fisheries said.

Ice in the Bering and Chukchi seas has been far scarcer than normal, and sea-surface temperatures have been far higher than usual, according to scientists and agency reports. But the cause of the seal die-off is as yet unknown, said Julie Speegle, an Alaska spokeswoman for NOAA Fisheries.

Sea-surface temperatures along the coastlines of the Bering Sea and the southern Chukchi Sea were as much as 4.5 degrees Celsius (8.1 Fahrenheit) above normal last month and remained well above normal as of this week, according to NOAA data.

The reports of dead seals, which started in May and come from village residents and a National Park Service biologist, coincide with mounting discoveries of dead gray whales along the West Coast from California to Alaska.

The whale die-off has been designated as an "unusual mortality event," a classification that authorizes a special investigation.

https://www.reuters.com/article/us-alaska-seals/alaskans-find-more-dead-seals-along-warming-arctic-sea-idUSKCN1TE010
NOAA: 279 Dolphins Dead on Gulf Coast, Triple Usual Number. June 14, 2019
NEW ORLEANS (AP) — At least 279 dolphins have stranded across much of the U.S. Gulf Coast since Feb. 1, triple the usual number, and about 98 percent of them have died, scientists from the National Oceanic and Atmospheric Administration said Friday.

Scientists will investigate whether lingering effects from the 2010 BP oil spill and more immediate effects from low salinity because of freshwater flowing from high rivers and a Louisiana spillway contributed to the deaths, said Teri Rowles, coordinator for NOAA Fisheries' Marine Mammal Health and Stranding Response Program.

BP spill effects included problems with lungs and adrenal glands, which produce stress-related hormones; blood abnormalities; and general poor condition, according to earlier reports . Those reports said the spill contributed to the Gulf of Mexico's largest and longest dolphin die-off.

https://www.usnews.com/news/us/articles/2019-06-14/noaa-260-dolphins-dead-on-gulf-coast-triple-usual-number
January 12, 2018:
Scores of Dolphin Deaths Have Scientists Baffled
Though the dolphin die-off has be attributed to a virus, the cause of the disease remains a mystery.†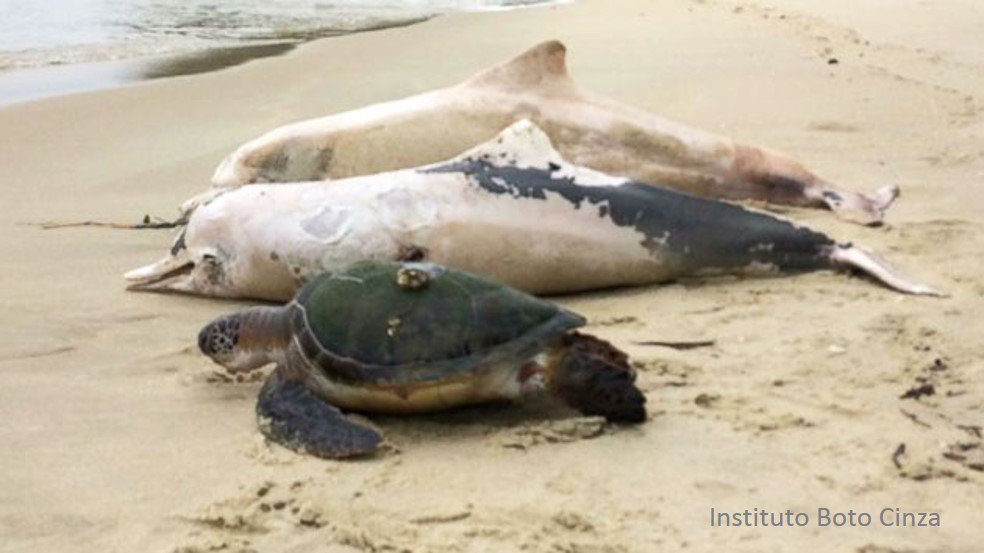 Since late last year, four or five dolphin carcasses have beached in Brazil each day. Scientists have confirmed that a virus is to blame, but the mortalities still have conservationists baffled.

The Associated Press reports more than 130 gray dolphins have washed up in the Bay of Sepetiba, a coastal area about 45 miles west of Rio de Janeiro, since late November. Another 40 dolphin carcasses were found on the neighboring island of Ilha Grande. Combined, that's more than 20 percent of the area's known dolphin population, which, at an estimated 800, may be the highest concentration of the species in the world.

But scientists aren't sure what caused the outbreak, or how long it might last. They are still trying to determine other reasons for the dolphin die-off.

https://news.nationalgeographic.com/2018/01/gray-dolphins-dead-brazil-mystery-illness-spd/

June 15, 2019. Washington state landowners are asked to take dead whales
With no more places to store the gray whale carcasses washing ashore in Washingtonstate, a federal agency is asking landowners to lend their properties as a final resting place for the marine mammals while they decompose.

The National Oceanic and Atmospheric Administration Fisheries is asking for volunteers to use their land as a disposal site for the carcasses, which can measure up to 40 feet long. By doing so, they would be supporting the natural process of the marine environment, officials said.

The skeletons left behind can be used for educational purposes, they added.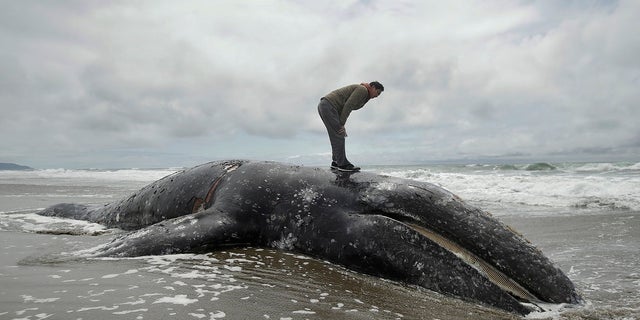 About 30 whales have been stranded on Washington's coastline this year, the most in two decades. The gray whale population is estimated at 27,000.

About 70 whales have been found dead along the U.S. West Coast alone. Because of the unusually high number, NOAA declared it an "unusual mortality event."

https://www.foxnews.com/us/washington-state-landowners-are-asked-to-take-dead-whales
Pestilence
For the Third Time, W.H.O. Declines to Declare the Ebola Outbreak an Emergency, June 14, 2019
Even with more than 1,400 dead, the W.H.O. says the risk of the disease spreading beyond the region remains low and declaring an emergency could have backfired.
Dr. Tedros Adhanom Gebreyesus, the W.H.O. director-general, accepted the committee's recommendation, saying that, even if the outbreak did not meet the criteria for an emergency declaration, "for the affected families this is very much an emergency."

"We've never seen an outbreak like this," he said. "It happened in a chronic war zone and overlapped with an election that politicized the whole situation. Militia attacks kept interrupting the operations, and when that happens, the virus gets a free ride."

With more than 2,100 infected and 1,400 dead, the outbreak centered in eastern Congo is surpassed only by the 2013-16 West Africa outbreak in which more than 28,000 were infected and 11,000 died.

The outbreak began in August, 2018 and defied early expectations that it would be contained quickly.

Its epicenter is a conflict zone rived with so much fighting that medical charities and governments trying to help have had to withdraw, sometimes with casualties of their own.

In March, Doctors Without Borders evacuated its personnel from the epicenter after its clinics in Katwa and Butembo were burned down or overrun as their patients scattered. In April, a Cameroonian doctor working for the W.H.O. was targeted and killed.

The State Department ordered all American personnel — including doctors from the Centers for Disease Control and Prevention — to leave shortly after they arrived last August because of a firefight on the road from their work area to their living quarters.

On Tuesday, the first case outside Congo was detected in Uganda — a 5-year-old boy from a town near the border.

https://www.nytimes.com/2019/06/14/health/ebola-congo.html
April 11, 2019 — Measles cases have been skyrocketing in the U.S. this year, with 1,001 reported so far, according to Health and Human Services Secretary Alex Azar. It's the most cases reported in this country since 1992 and since measles was declared eliminated in 2000. Worldwide, the number of reported cases jumped 300% in the first three months of 2019 compared to the same time period in 2018, according to the World Health Organization.
Drug-Resistant TB: A Clear And Present Danger
A deadly, airborne contagion
Imagine a contagion that silently spreads through the air, and capable of killing a quarter of a million people each year—almost one every two minutes. And yet, only a quarter of those infected get diagnosed and put on treatment. Even among the lucky people who get treated, only half get cured. Treatment is very expensive and requires prolonged treatment with highly toxic drugs. This scary scenario is not from a Sci-Fi or horror movie. It is a clear and present threat called drug-resistant tuberculosis (DR-TB).

During the Ebola outbreak in West Africa, nearly 29,000 cases of Ebola were reported during 2014 and 2016, and just over 11,000 deaths occurred due to Ebola. Compare that with the burden of drug-resistant TB. In just one year (2017), there were about twenty times as many cases and deaths globally from drug-resistant TB (558,000 cases and 230,000 deaths). There is a good reason why drug-resistant TB is called 'Ebola With Wings.'

https://www.forbes.com/sites/madhukarpai/2019/05/07/a-clear-and-present-danger/#ffd1ab76b1a8
June 11, 2019
The last pandemic was a 'quiet killer.' Ten years after
swine flu

, no one can predict the next one
The cryptic phone call came on a Monday. The Centers for Disease Control and Prevention was holding an important teleconference for a few reporters. I should dial in.

When the time came, just a handful of reporters were on the line. Also there: the CDC's top flu experts. They sounded worried.

Two unrelated children from southern California had tested positive for flu infections caused by viruses that normally sicken pigs. This could have been a fluke, but from the unusual nature of the call and from the tension in the voices of the experts, it was clear that the CDC officials thought it might be something else: an influenza pandemic.

That teleconference took place on April 20, 2009. Over the next seven weeks it became apparent that any fears they had had been well-founded.

On June 11, 2009 — 10 years ago today — the World Health Organization declared that the swine flu virus we now simply call H1N1 had indeed triggered a pandemic, the first time in four decades a new flu virus had emerged and was triggering wide-scale illness around the globe

Since it started circulating in the spring of 2009, H1N1 has infected about 100 million Americans, killing about 75,000 and sending 936,000 to the hospital, the CDC estimates. Another virus, H3N2, is responsible for more infections, but "in terms of the severity, H1 is kind of this quiet killer," said Dr. Daniel Jernigan, head the CDC's flu division.

https://www.statnews.com/2019/06/11/h1n1-swine-flu-10-years-later/
Christian Persecution & Terrorism
THURSDAY, JULY 5, 2019: Christian speaker pulled from design conference after local group complains
A design conference in Texas pulled a Christian speaker from its roster after a local group threatened to pull out of the conference because he was invited.

David Roark, communications director for The Village Church, a Texas megachurch, was uninvited from the Circles Conference, a three-day event for graphics and user experience designers, because of his religious views. The conference is from Sept. 18-20.

The Dallas-Fort Worth chapter of AIGA refused to partner with Circles Conference if Roark was on the roster. The group said the church has "openly discriminatory policies and practices towards women and the LGBTQ+ community" and therefore did not meet its standards of inclusion.

Conference officials agreed to remove Roark from the roster.

https://www.foxnews.com/faith-values/christian-speaker-texas-design-conference-complaints
FRIDAY, JUNE 14, 2019
19 killed by gunmen in Burkina Faso: 'There's no Christian anymore in this town'

Dozens of armed unidentified gunmen killed at least 19 and injured 13 others in northern Burkina Faso on Sunday.

A local government official told AFP on the condition of anonymity that the attack occurred between 3 p.m. to 5 p.m. and that 19 bodies were found at the time. The official said a search was underway to find others who were killed.

Hours before the gunmen attacked, the source said the gunmen stopped three vehicles in the town of Arbinda and set them on fire. The official detailed that one of the drivers was killed.

The killing in Arbinda comes as armed groups have spread across the Shael region and committed atrocities in Mali, Niger, and Burkina Faso. The United Nations reports that the violence has led to the displacement of at least 4.2 million people, 1 million more than in 2018.

In Burkina Faso, innocent lives are being lost due to the rise of jihadist attacks and government counterterror operations.

In April, more than 60 people were killed in an attack in Arbinda which has been hit hard by violence.

"There is no Christian anymore in this town [Arbinda]," an anonymous contact told the Christian aid charity Barnabus Fund. "It's proven that they were looking for Christians. Families who hide Christians are killed. Arbinda had now lost a total of no less than 100 people within six months."

https://www.christianpost.com/news/19-killed-by-gunmen-burkina-faso-theres-no-christian-anymore-in-this-town.html
FRIDAY, JUNE 14, 2019
Nigerians describe horrors of Fulani atrocities: 'There is a genocide going on' Unborn babies 'slaughtered like chickens,' entire tribes now homeless

WASHINGTON — Nigerians from predominantly Christian tribes in Nigeria visited the United States this week to share how their tribes are now "homeless" and "sleeping under the skies" after recent massacres at the hands of Fulani radicals and unwanted actions taken by the government.

Two members from the Adara community, a majority Christian ethnic group in Southern Kaduna state, shared their experiences during a panel event sponsored by the conservative think tank Heritage Foundation that also featured persecuted Nigerians from other parts of the country.

Alheri Magaji, the daughter of the current leader of the Adara Chiefdom, told the audience about how her ethnic group suffered vicious attacks carried out from mid-February through April this year that left about 400 dead and displaced thousands in her community.

"Right now my tribe is nonexistent legally," Magaji explained. "Part of the reason why I am here is to try to get my land back. That is who I am. That is my identity. That is what makes me. My people are stranded. They are literally sleeping under the skies on the floor [with] no houses, no food, nothing. It is not about relief materials and how much we can donate. It's about holding the government accountable."

As previously reported, a series of Fulani attacks were carried out in Adara communities in the Kajuru local government area in a span of a few weeks by suspected Fulani radicals. Along with the hundreds of lives taken, countless buildings were burned and destroyed.

Fulani herdsmen, many of which are Muslim, are a nomadic ethnic group found in West and Central Africa. While conflict between Fulani herdsmen and farmers in Nigeria has been ongoing for decades, Magaji and other panelists explained that attacks launched by Fulani radicals in the last few years are more atrocious than the farmer-herder conflicts that came before.

We have 2-month-old babies, 6-month-old babies, babies in the bellies turned from their mother's womb and slaughtered like animals, like chickens," she continued. "We are here today to beg the U.S. government and for the world to hear our story."

By the time the series of Fulani attacks occurred this past spring, the Adara tribe had already been pushed into a state of uncertainty. Magaji said last May that the Kaduna government passed a measure to split the Adara chiefdom and create a Fulani Muslim emirate in Kajuru.

The Adara community detested such a proposal. Magaji added that the Adara chief was kidnapped last Oct. 19 and murdered about a week later even though a ransom was paid for his release.

"It was when the chief died that the elders in our land realized that the governor … [said that] Adara Christians are now under a Muslim Hausa-Fulani emirate," she explained. "It is so ridiculous that it was already signed into law and nobody knew about it. For a governor to make that kind of law in the first place without the people of the land knowing about it is illegal and unjust."

https://www.christianpost.com/news/nigerian-genocide-unborn-babies-slaughtered-like-chickens-entire-tribes-left-homeless.html
Christian persecution is not only in Africa, China, the Middle East, but is also beginning to ramp up dramatically in Western Nations. Although not yet as violent, there is a coordinated effort to silence Christian voices. https://dyingworld.org/2019/04/20/the-burning-of-the-church/
June 7, 2019: Toronto CANADA: Pastor Arrested for Preaching Against Homosexuality https://www.charismanews.com/opinion/76 … osexuality
Pastor David Lynn of Christ Forgiveness Ministries was arrested on June 4, 2019, for preaching the gospel publicly in Toronto, Canada. The neighborhood he was preaching in was Church-Wellesley Village. This neighborhood is known to be a place where many of the LGBTQ community in Toronto reside. His ministry is currently on an outdoor preaching tour throughout the 22 districts of Toronto. June 4, happened to be the day they scheduled for that district.

It is not uncommon for someone to think "open-air preaching" and "LGBTQ neighborhood" and immediately jump to thoughts of preachers condemning homosexuals to hell. However, Pastor Lynn's preaching was some of the most loving and gracious preaching I have ever seen and heard, which is why it is outrageous that he was arrested.

The entire time of preaching was livestreamed via Facebook and can be found on YouTube. Throughout the video, it is surprising to see the reaction of those who were listening to Lynn's preaching. The more love he poured out, the more hate and resistance he received. As anyone can see if they view the video, Pastor Lynn was respectful and kind throughout all of his time preaching. As he shared the gospel, he also made statements like "We are here to tell you that we hate nobody." He emphasized God's love again and again.

He proceeded to ask those protesting him if they would be willing to tolerate him as a Christian. But those listening were unwilling to dialogue, and many asked him to leave the street corner.

Throughout the encounter, he was very calm and collected, not entering into any disrespectful or condemnatory dialogue.

Canada does have hate-speech laws. However, there is no way Lynn's preaching could be deemed as hate speech. He stated while preaching, "Everyone is accepted. … and that is what we preach as Christians."

In order to not make anyone listening feel singled out, he said "Jesus died for the sinner. … Every heterosexual has sin. Every homosexual has sin. Sin is when we violate the laws of God." He did not target any particular group of people or single out homosexuality.

Though he was very loving throughout the entire encounter, tensions escalated, and people began to form a mob of protest around him. As he tried to walk away from the most adamant protesters, they crowded in on him and would not let him move. Throughout the encounter, as he tried to walk away from them, they pressed in on him and blocked him. At times, they even pressed their bodies against him, which in technicality is assault.

When the police arrived, rather than dealing with those who were assaulting Pastor Lynn, the police blamed him for creating a disturbance of peace. Even upon his request to deal with those who had assaulted him, the police would not listen to him.

Pastor Lynn, preaches on a weekly basis all throughout Toronto with amplification and, according to his statements, he has never been in violation of the law by using amplification. In the video that captured the entirety of the event, the officers told him that he needed to preach without amplification. They said this despite him not being in any violation of the law. He then proceeded to preach without amplification, but not long after, the officers decided to arrest him.

Later that evening, in a statement to the media, he said, "Every community in Toronto should have the same laws, and everyone should be welcome." He continued, "Everyone should have rights, dignity and respect, just like Christians should as well."

He clarified that throughout his preaching, he was telling those listening, "God loves you. There is hope for you." "Whatever community you are, God loves you. Jesus died for you."

We must understand the importance of this event. It is a gross violation against free speech, and it shows any Christian a precursor of what persecution could look like in the future.

Here in North America, we are in a serious battle for rights that we have taken for granted. There are groups, organizations and individuals that want to make certain types of free speech illegal. Pastor Lynn's arrest is nothing short of a violation of his right to free speech. He was not inciting anyone to violence, and neither was he being defamatory. He was preaching the gospel. He was preaching that Jesus Christ loves each person and died specifically for them. In spite of this, he received harsh protest which ended in his arrest. This should greatly concern any Christian.

Pastor David Lynn was arrested for a message of love, healing and hope. As Christians we need to take this as a wake-up call. Our rights and liberties are on the brink of being removed in the coming years. Now is the time to have a voice. We cannot afford to remain silent.

The growing trend in North America is that if anyone shares publicly on a topic that is deemed controversial, or that a particular group deems hateful, they must be silenced. What will happen the day that the simple gospel is considered hate speech? That is where things are headed if we as Christians do not take a stand today. We already seen certain people and topics being censored by Twitter, Facebook, and YouTube. We cannot be idle. We must stand for liberty. The future of our right to free speech begins today. If we wait to deal with it, it will likely have already been taken away.
Wars and Rumors of war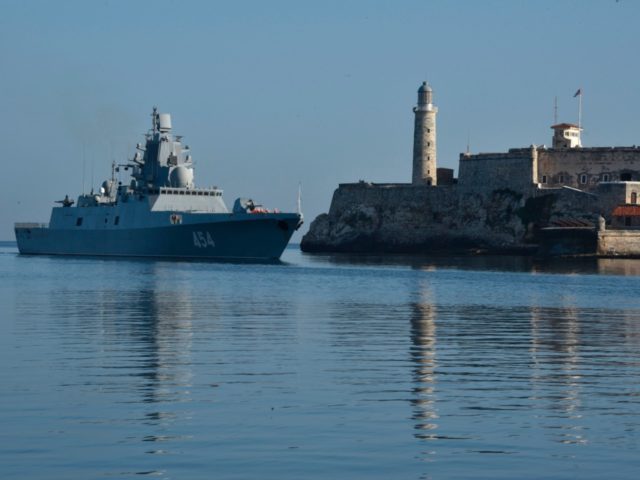 June 25, 2019: Russia Sends Ships, War Planes to Cuba and Venezuela
Russia sent an air force plane to Venezuela and one of its most advanced warships to Cuba on Monday in support of both socialist dictatorships.
A Russian air force plane landed in the Venezuelan capital of Caracas on Monday, according to witnesses from the Reuters news agency. The arrival came just three months after Russia landed two air force planes carrying defense officials and around 100 troops, leading to the U.S. accusing Moscow of engaging in "reckless escalation" of the ongoing country's political power struggle.

Russia has in recent years positioned itself as a steadfast backer of Nicolás Maduro's socialist regime, providing vital financial, diplomatic, and military support to the regime amid the country's worsening economic and humanitarian crisis.

In Cuba, one of the Russian navy's most advanced warships, the Admiral Gorshkov, docked in Havana on Monday, where it was greeted with a 21-gun salute from the Cuban military located at the entrance to the Bay of Havana.

According to PBS, the Admiral Gorshkov "armed with cruise missiles, air defense systems, and other weapons" and is the "first ship in a new class of frigates intended to replace aging Soviet-era destroyers to project power far away from Russian shores."

Moscow has also become a crucial ally of Cuba's communist regime, evoking shades of Havana's alliance with the Soviet Union during the Cold War. Last year, Vladimir Putin agreed to loan the country $50 million in order to purchase new military equipment such as armored vehicles, helicopters, and other weapons. However, Russian officials have repeatedly expressed concern at both Cuba's and Venezuela's abilities to repay their debts, as their respective economies remain in dire straits as a result of their socialist economic policies.

In April, Russian Deputy Foreign Minister Sergei Ryabkov announced that Russia would do everything possible to help both Cuba and Venezuela overcome the economic difficulties caused by their socialist regimes, blaming U.S. sanctions for them while reaffirming Moscow's resolute opposition to the Trump administration's attempts to instigate transitions to democracy in both countries.

"We are concerned over the continuing actions by the United States toward the countries of the Latin American region. We see the sanctions as absolutely unlawful and illegitimate," he said at the time. "We will oppose them. Venezuela and Cuba are our allies and strategic partners in the region. We will do everything we can to let them feel our support."

https://www.breitbart.com/national-security/2019/06/25/russia-sends-ships-war-planes-to-cuba-and-venezuela/
Israeli planes hit several Gaza sites after Sderot rocket attack
14 June 2019,
Israel planes carried out multiple airstrikes in the Gaza Strip early Friday, hours after a rocket hit a religious school in southern Israel.

The Israeli military said in a statement that fighter jets and other aircraft attacked "several terror targets, including terror infrastructure in military compounds."

The Israel Defense Forces said it also hit a base belonging to the Hamas terror group's naval commando unit.

The attack was carried out in response to the rocket that was shot from the Gaza Strip earlier this evening," the army said.

The Hamas-linked Shehab news agency said there were three strikes on a naval facility near Khan Younis in southern Gaza, causing damage.

It said sites east of Gaza City were also attacked. There were no immediate reports of casualties. Gaza-based news outlets published photographs of the strikes on the naval facility. On early Thursday morning, a rocket launched from Gaza at the southern community of Nirim was intercepted by the Iron Dome anti-missile system.

Politicians and others called for a major military operation after the attack, including assassinating leaders of Hamas. No Palestinian group has taken responsibility for the attacks, but the military generally holds Hamas responsible for any violence emanating from the enclave. After the first rocket attack, Israeli aircraft bombed a Hamas underground facility in the southern Gaza Strip.

Tensions with Gaza have been steadily rising in recent days, with Israel blocking Gazan fishermen from access to the sea in response to incendiary balloons being launched over the border on Wednesday. The tensions have threatened to undo an unofficial ceasefire brokered after a major flare-up in early May in which the sides exchanged the most intense fire in years, leading to the deaths of four Israelis and 29 Gazans. Gazans say Israel has been slow in implementing parts of the deal.

https://www.timesofisrael.com/israeli-planes-reportedly-hit-gaza-after-sderot-rocket-attack/
June 17, 2019: Pentagon approves sending 1,000 more troops to Mideast as US
U.S. Central Command (CENTCOM) released new images Monday showing the aftermath of mine attacks against two oil tankers in the Gulf of Oman last week, including some images purporting to show Iranian forces removing an unexploded device from the hull of one of the vessels.

Hours later, Acting Defense Secretary Patrick Shanahan said he had approved a request from CENTCOM to send approximately 1,000 additional troops to the Middle East "to address air, naval, and ground-based threats" in the region.

"The recent Iranian attacks validate the reliable, credible intelligence we have received on hostile behavior by Iranian forces and their proxy groups that threaten United States personnel and interests across the region," Shanahan said. "The United States does not seek conflict with Iran. The action today is being taken to ensure the safety and welfare of our military personnel working throughout the region and to protect our national interests."

https://www.foxnews.com/world/centcom-iran-tanker-attack-pompeo-centcom
U.N. officials: U.S. planning a 'tactical assault' in Iran
The military action under consideration would be an aerial bombardment of an Iranian fa

cility linked to its nuclear program

, the officials further claimed.
Is the US going to attack Iran soon?

Diplomatic sources at the UN headquarters in New York revealed to Maariv that they are assessing the United States' plans to carry out a tactical assault on Iran in response to the tanker attack in the Persian Gulf on Thursday.

According to the officials, since Friday, the White House has been holding incessant discussions involving senior military commanders, Pentagon representatives and advisers to President Donald Trump.

The military action under consideration would be an aerial bombardment of an Iranian facility linked to its nuclear program, the officials further claimed.

"

The bombing will be massive but will be limited to a specific target

," said a Western diplomat.

The decision to carry out military action against Iran was discussed in the White House before the latest report that Iran might increase the level of uranium enrichment.

The officials also noted that the United States plans to reinforce its military presence in the Middle East, and in the coming days will also send additional soldiers to the area.

The sources added that President Trump himself was not enthusiastic about a military move against Iran, but lost his patience on the matter and would grant Secretary of State Mike Pompeo, who is pushing for action, what he wants.

Pompeo has repeatedly made statements against Iran in recent days. He claimed that there is no doubt that the recent explosions in tankers in the Gulf were carried out by Iran.

The possibility of a US attack came at the time of the deterioration of relations between the United States and Iran, against the backdrop of the US's withdrawal from the nuclear agreement a year ago, and the sanctions on the economy of the Islamic Republic.

In recent days, Iran has announced that it intends to deviate from the nuclear agreement signed in 2015 and to enrich uranium at a higher level than the maximum it has committed to within the framework of the nuclear deal.

In addition to the confrontation over Iran's nuclear program, the United States accuses Tehran of trying to extend its arm across the Middle East and destabilize the region from Yemen to Syria.
https://www.jpost.com/printarticle.aspx?id=592832
Violence, lack of empathy or love
Jesus told us that in the Last days the Love of many would wax cold. Jesus told us that a spirit of LAWLESSNESS would be on the land.
July 1, 2019: Portland's mayor has turned his city over to Antifa thugs
An elderly man was brutally beaten by Antifa thugs wielding baseball bats in downtown Portland, Ore., over the weekend. Another man, a Good Samaritan who came to his defense, was cracked in the skull with a crowbar.

Not too far away from that altercation journalist Andy Ngo was set upon by another gang of leftist savages. He was punched in the face and pummeled by violent kicks. Others in the crowd sprayed the defenseless journalist with milkshakes laced with quick-drying cement and caustic chemicals.

"It was complete anarchy and lawlessness," Ngo told me during an interview on the Todd Starnes Radio Show.

Ngo, an editor and photojournalist for the online website Quillette, was attacked in front of the Oregon Justice Center – which houses the sheriff's office and a police precinct.

And yet, Ngo said there were no law enforcement officers anywhere near the attack – leading many to speculate that police officers had been given an order to stand down and not stop the Antifa thugs.

Mayor Ted Wheeler's office will not comment on the accusations, but Ngo's attorney said there is no doubt in her mind that such an order was given.

"The outcome here is a direct result of a command and control structure that tells the police to not do their job so that people can run wild in the streets of Portland," she said. "Allowing these thugs to conspire to prevent a journalist from doing his job and to injure him and to try to scare others is a civil rights violation."

Sen. Ted Cruz, R-Texas, is blaming Mayor Wheeler for giving Antifa a free pass to terrorize the citizens of Portland.

"To federal law enforcement: investigate & bring legal action against a Mayor who has, for political reasons, ordered his police officers to let citizens be attacked by domestic terrorists," Cruz tweeted.

Last October a 74-year-old motorist was assaulted after he was caught up in an Antifa mob action. During that protest, police officers were ordered to stand down.

"I was appalled by what I saw in the video, but I support the Portland Police Bureau's decision not to intervene," the mayor said in remarks reported by the Washington Times.

Mayor Wheeler also condemned federal immigration policies and vowed to stop police from assisting ICE agents.

https://www.foxnews.com/opinion/todd-starnes-antifa-portland-mayor
June 14, 2019:
Teen

repeatedly

stabbed middle school principal in chest

during graduation practice
A New Jersey teen repeatedly stabbed a middle school principal in the chest with a folding knife during a Friday morning graduation practice, police said.

Union School Principal Kurt Schweitzer was leading the eighth-grade graduation rehearsal in the Washington School gym in Rutherford around 9:30 a.m. when the student allegedly "ran across the gym and proceeded to thrust the knife, striking the chest of the principal several times," a Rutherford police news release said.

The 14-year-old then turned around and put his hands up in the air. A teacher took the knife and walked him outside to police, and he was taken into custody. His name was not released because he is a minor.

The boy and Schweitzer were treated for non-life-threatening injuries.The teen is charged with multiple counts of aggravated assault and weapons possession. He remained in police custody as of Friday night.No one else was harmed during the incident. It was unclear what might have motivated the attack.
Sexual Deviancy & moral decline
Luke 17: 26 And just as it happened in the days of Noah, so it will be also in the days of the Son of Man: 27 they were eating, they were drinking, they were marrying, they were being given in marriage, until the day that Noah entered the ark, and the flood came and destroyed them all. 28 It was the same as happened in the days of Lot: they were eating, they were drinking, they were buying, they were selling, they were planting, they were building; 29 but on the day that Lot went out from Sodom it rained fire and brimstone from heaven and destroyed them all. 30 It will be just the same on the day that the Son of Man is revealed.
Just when you think you've heard it all, the American Psychological Association (APA) decides this: Monogamy is the new bigotry. That's right. According to the supposed "mental health experts," open marriages are the tolerant approach to intimacy. And they've launched a task force to prove it to the world.
According to the APA's official description of this initiative, "Finding love and/or sexual intimacy is a central part of most people's life experience. However, the ability to engage in desired intimacy without social and medical stigmatization is not a liberty for all." People who practice "consensual non-monogamy," as they call it, are unduly "marginalized," and it's time, the APA argues, to promote "awareness and inclusivity" for people who practice "polyamory, open relationships, swinging, relationship anarchy and other types of ethical, non-monogamous relationships."
Well, the APA may call these open relationships "ethical," but the American people sure don't. In Gallup's latest survey on moral acceptability, it's hard to find a behavior more universally frowned upon than adultery or polygamy. Only nine percent of the country agrees with the APA that fidelity is somehow narrow-minded or passé. The multiple-spouse relationship has mildly more support at 18 percent.
Still, the head of the task force writes, "I'm concerned about the lack of support this community is receiving." "Too many clients who are in consensual non-monogamous (CNM) relationships, have to educate their therapists. Too many of them discontinue therapy because their therapist judged them, didn't know enough about CNM to be helpful, or worse, makes actively stigmatizing comments…" It's time, he insists, "to examine our biases and take a non-judgmental posture toward clients engaged in consensual non-monogamy — just as we would with LGBTQ clients."
July 7, 2019: 'Europe's biggest sex festival' hits England, aerial photos show
Hundreds of "adventurers" are evidently pitching their tents in a showground as this year's Swingfields festival promises to go off with a bang.

Europe's biggest swingers' party has come to the UK again for three days as raunchy revelers get into the swing of things.

Swingfields' location for this year's "Aurora" event has now been revealed using handwritten "SF this way" signs around Malvern, Worcestershire, England.

The site is a closely-guarded secret and ticket holders, who pay over $200 for couples, are only told 48 hours before the festival gets underway.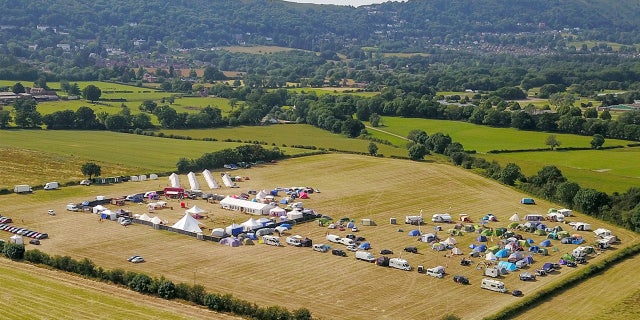 Drone pictures of the field near the Three Counties Showground show a red double-decker party bus and gazebo covering several double-beds.

Other snaps detail four poster beds dotted around the site as well as mysterious tents and marquees in the corners of the field. Paddling pools have also been erected around the festival with a line of chairs set up nearby.

The official Swingsfields website states: "This three-day event will be working alongside ALL lifestyle groups, including LGBT communities, to ensure we deliver a fun and entertaining event for all."

Residents in the area say they are HAPPY for the sex festival to go ahead as long as the revelers don't leave the compound.

"I'm not bothered what they do inside the festival as long as they don't leave it but I suppose, why would they?" Sylvia Hartley, 40, said. "The festival was here last year and no one seemed to have any problems. It's just people having sex in the open air."

https://www.foxnews.com/lifestyle/europes-biggest-sex-festival-england-photos
06/03/2019 : Lawmaker erupts on library for drag-queen promotion

A library in Ohio has canceled a drag-queen training session for teenage boys after being called out by the speaker of the state House of Representatives for the "stunningly bizarre" plan. The Washington Examiner reported the public library in Licking County dropped the event after House Speaker Larry Householder, a Republican, wrote the Ohio Library Council.

The event, aimed at teenager, featured "a tutorial on applying makeup for dressing drag and a guide to safe sex." Such events are becoming more common, even moving into small towns such as Beloit, Wisconsin, after establishing a beachhead in left-wing enclaves such as Long Beach and St. Paul.

A public library in Houston hire a convicted child-sex offender to read books to children. Houston Public Library officials didn't apologize for hosting Drag Queen Storytime, but they did "deeply regret" failing to conduct a background check. Householder told the council he fully supports freedom of speech, the First Amendment and libraries.

But he said when he first heard of the training session he thought it was a joke. "The joke is apparently on the taxpayers, who fund our libraries. This is a stunningly bizarre breach of the public trust. And it must stop." He pointed out taxpayers in the state pay about $400 million a year to support libraries.

"Let me be crystal clear: this isn't about banning books or banning thought or any other red herring argument. This is about right and wrong. This is about being good stewards of the public's money," his letter said. He continued, "I can also assure you the taxpayers aren't interested in seeing their hard-earned dollars being used to teach teenage boys how to become drag queens."

The Examiner said the Ohio Library Council ultimately decided to cancel the event, and the Pride Coalition announced it would be held somewhere else. The scandal in Houston came about when the activist group Houston MassResistance found out Alberto Garza, a 32-year-old drag queen who goes by the name Tatiana Mala Nina and was scheduled to appear, was convicted of assaulting an 8-year-old child.

https://www.wnd.com/2019/06/lawmaker-erupts-on-library-for-drag-queen-promotion/
June 22, 2019: Human trafficking in America among worst in world: report
The United States is again ranked as one of the worst countries in the world for human trafficking. According to a recently released report by the State Department, the top three nations of origin for victims of human trafficking in 2018 were the United States, Mexico and the Philippines.

At the heart of the human trafficking trade in America is simple economics: Supply and demand.

Over the last two months, Fox News has investigated human trafficking. We followed the enforcement efforts of FBI agents and police officers, documented the ways advocacy groups protect and serve survivors, and heard heart-wrenching stories of abuse, rape and recovery from numerous victims.
"The United States is the number one consumer of sex worldwide. So we are driving the demand as a society."— Geoff Rogers, co-founder of the United States Institute Against Human Trafficking
If there's one takeaway from our reporting, it's that the industry is fueled by an unceasing demand. It's here that officers focus their enforcement actions. And it's where advocates focus their education efforts to end the illicit trade.

"We have a major issue here in the United States" Geoff Rogers, co-founder of the United States Institute Against Human Trafficking (USIAHT), said in an interview with Fox News. "The United States is the No. 1 consumer of sex worldwide. So we are driving the demand as a society."

In 2018, the DOJ began 230 federal human trafficking prosecutions, a drop from 282 in 2017. Federal convictions rose from 499 in 2017 to 426 in 2018. More than 70 percent of the cases resulted in jail sentences of more than five years, according to the State Department report.
"These are American kids, American born, 50% to 60% of them coming out of the foster care industry."— Geoff Rogers
"We're also driving the demand with our own people, with our own kids," Rogers said. "So there are tremendous numbers of kids, a multitude of kids that are being sold as sex slaves today in America. These are American kids, American-born, 50 percent to 60 perform of them coming out of the foster care industry."

This assertion is confirmed by the State Department's report, which found that children in foster care, homeless youth, undocumented immigrant children and those with substance abuse problems especially at risk to fall into the human trafficking trap.

Rogers says that because the demand is so great in the U.S., traffickers are filling that demand with an increased supply of FORCED sex workers.

"So the demand here in the United States is a global one," he said. "We do have men traveling the globe to go to places like Thailand and other places in East Asia to purchase sex with kids. But, in fact, the demand is so great that the supply has needed to be filled here in the United States."

According to a U.S. Department of Health and Human Services report, over 300,000 of America's young population is considered at risk for sexual exploitation. It's also estimated that 199,000 incidents occur within the U.S. each year.

Corporal Alan Wilkett, of the Pasco County Sheriff's Office in Florida, operates their local Human Trafficking Task Force. He believes the best way to combat the trade is to quell the demand.

https://www.foxnews.com/us/human-trafficking-in-america-among-worst-in-world-report
June 24, 2019: Rhode Island Signs Law Permitting Abortions Up to Birth
On Wednesday, Rhode Island Gov. Gina Raimondo signed the Reproductive Privacy Act into law, allowing late-term abortions on unborn babies, including part-birth and dismemberment abortions.

According to the Christian Post, the bill states, "Neither the state, or any of its agencies, or political subdivisions shall restrict an individual person from preventing, commencing, continuing, or terminating that individual's pregnancy prior to fetal viability." The bill states that late-term abortions are only allowed when necessary if the mother's life or health is at risk.

The Catholic governor claimed signing the bill shortly after it was approved by the Rhode Island General Assembly was the "right thing to do."

"When this bill becomes law, women and their families across Rhode Island will be free from the fear that the reproductive health care they need today will be illegal tomorrow," Raimundo said. "We owe this certainty to every Rhode Island woman – and the bill before me today provides exactly that."

LifeNews called into question the broad term of "health" of the mother, which could qualify for any situation. And, Barth Bracy, executive director of the Rhode Island Right to Life Committee, called the new legislation a "New York-style abortion expansion bill."

"These powers and principalities of the General Assembly have now completely revealed themselves as the architects and actors behind this extreme abortion expansion, all the while continuing the pretense that they are pro-life…a historic and monstrous betrayal," a statement from the nonprofit said.

https://blackchristiannews.com/2019/06/rhode-island-signs-law-permitting-abortions-up-to-birth/
Drag Queen Reads During Worship Service as Cincinnati Church Celebrates Pride Month
The building caretaker of a Presbyterian church in Cincinnati, Ohio dressed up in drag to read a book in scheduled children's time during the Sunday, June 16 worship service.

The Cincinnati Enquirer reports Dan Davidson dressed up as "Sparke Leigh" complete with a purple dress, makeup, high heels, and "a glitter beard" and stood at the Mount Auburn Presbyterian Church door greeting members and visitors.

Following the song "God Welcomes All" by the church choir, Davidson walked up on stage and ready the book Pride: The Story of Harvey Milk and the Rainbow Flag to the audience. The story was intended for children, some of whom sat at Davidson's feet during the reading.

"Harvey dreamed that everyone — even gay people — would have equality," Davidson read. "He dreamed that one day, people would be able to live and love as they pleased."

Davidson has performed as a drag queen in Seattle, Washington, before he moved to Ohio last month, according to the newspaper.

At another point during the service, a man stood up and told the audience the story of his "coming out."

Mount Auburn Presbyterian, a member church of the PCUSA, is celebrating pride month throughout June, The Enquirer reported. Gay PRIDE flags cover the halls and rainbow candles are on the church's stage.

Church Sponsors Drag Queen Story Hour in Texas

As CBN News reported earlier this month, a liberal church in Texas sponsored a drag queen story hour for children after the local library canceled the event.

KVUE in Austin reports that Open Cathedral Church in Leander rented a room in the public library and hosted the event scheduled for June 15. The church paid the fees to rent out the room, which is available to all members of the public to rent. At the time of publication, 400 people had responded that they planned to attend the event.

The church renamed the event from "Drag Queen Story Time" to "Leander Family Pride Festival," according to the television station.

Open Cathedral Church is a progressive church that embraces LGBTQ ideology. Lead Minister Ryan Hart said the church has received an "overwhelming" amount of positive feedback from both their members and the Leander community as a whole. He said they expressed there has been a need in the community for a drag queen event like this.

CBN News has previously reported about numerous events targeting young children with LGBTQ activism, including a middle school in North Carolina that invited two drag queens to speak with students about their personal identity and gender. The drag queens spoke on a panel and encouraged the children to celebrate LGBTQ lifestyles.
Mark of the Beast "type" Technology
Revelation 13: 16 And he causes all, the small and the great, and the rich and the poor, and the free men and the slaves, to be given a mark on their right hand or on their forehead, 17 and he provides that NO ONE will be able to BUY or to SELL, EXCEPT the one who has the mark, either the name of the beast or the number of his name. https://dyingworld.org/2019/01/31/mark-of-the-beast-image-of-the-beast/
July 10, 2019: Humans will eventually merge with machines, professor says:
In a not-so-distant future, humans will merge with machines.

Although that seems like something cooked up by a science fiction writer, according to a prominent historian it's a reality that's not very far away — especially given how much Big Tech has disrupted everything from COMMERCE (BUYING/SELLING) Amazon) to relationships (Facebook) and media (Google and Facebook).

"It's increasingly hard to tell where I end and where the computer begins," Yuval Harari, a professor of history at the Hebrew University in Jerusalem, told the audience at the Fast Company European Innovation Festival this week. "In the future, it is likely that the smartphone will not be separated from you at all. It may be embedded in your body or brain, constantly scanning your biometric data and your emotions."

During his keynote address at the conference, Harari placed the possibility of humans physically merging with machines as distinct from previous advances that have harnessed technological innovation to improve our lives. The difference? Humans will be able to manipulate themselves.

https://www.foxnews.com/tech/humans-merge-with-machines
Feb. 13, 2017: Elon Musk: Humans MUST merge with machines or
become irrelevant in AI age
Billionaire Elon Musk is known for his futuristic ideas and his latest suggestion might just save us from being irrelevant as artificial intelligence (AI) grows more prominent.

The Tesla and SpaceX CEO said on Monday that humans NEED to merge with machines to become a sort of cyborg.

"Over time I think we will probably see a closer merger of biological intelligence and digital intelligence," Musk told an audience at the World Government Summit in Dubai, where he also launched Tesla in the United Arab Emirates (UAE).

"It's mostly about the bandwidth, the speed of the connection between your brain and the digital version of yourself, particularly output."

Musk explained what he meant by saying that computers can communicate at "a trillion bits per second", while humans, whose main communication method is typing with their fingers via a mobile device, can do about 10 bits per second.

In an age when AI threatens to become widespread, humans would be useless, so there's a need to merge with machines, according to Musk.

"Some high bandwidth interface to the brain will be something that helps achieve a symbiosis between human and machine intelligence and maybe solves the control problem and the usefulness problem," Musk explained.

The technologists proposal would see a new layer of a brain able to access information quickly and tap into artificial intelligence. It's not the first time Musk has spoken about the need for humans to evolve, but it's a constant theme of his talks on how society can deal with the disruptive threat of AI